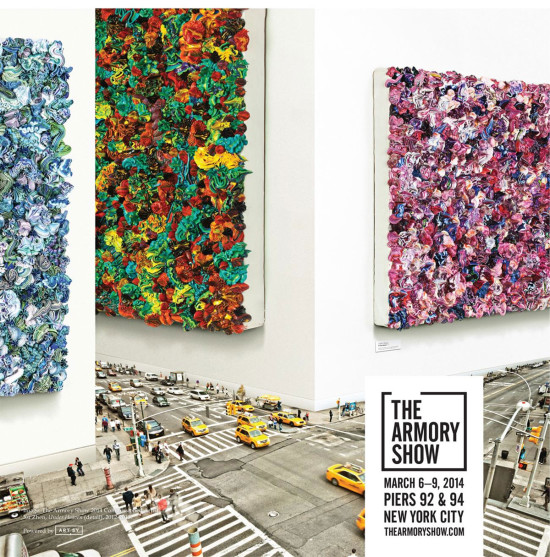 THE ARMORY SHOW LAUNCHES NEW WEBSITE AND CREATIVE CAMPAIGN
TICKETS FOR THE ARMORY SHOW 2014 GO ON SALE TODAY
As the 2014 edition of The Armory Show fast approaches, we are thrilled to present a new website and fresh graphic identity designed by the agency Our Man In Havana. The revitalized campaign echoes the fair's ongoing commitment to enhancing its visitor experience and to both supporting and collaborating with leading contemporary artists and designers.
The bold new advertising campaign entitled "Colossal" announces the show's arrival with playful images that juxtapose mammoth-sized art with iconic New York City scenes. Ads feature city streets lined with larger-than-life art fair walls that feature the paintings of Xu Zhen, this year's Commissioned Armory Artist. "The idea was to literally and figuratively represent the colossal scale and impact of New York City's largest and most legendary art fair," said Andrew Golomb, Executive Creative Director of Our Man In Havana.
The new logo was created by referencing and updating the show's iconic logotype. Framing it in a cube with a single opening, it is intended to reflect an art fair booth layout. The same design motif serves as a centerpiece of a new website that features a greater emphasis on visual content, simplified navigation, and a responsive interface that works seamlessly across all devices.
Noah Horowitz, Executive Director of The Armory Show, remarks: "It has been a thoroughly rewarding experience to work with Our Man in Havana over the course of this past year.  We are delighted with the results of their efforts which highlight an intelligent and creative design ethos and further emphasizes the Armory's position as a quintessentially New York cultural institution."
Tickets for the upcoming fair are also now available for purchase, with prices starting at $20 for students and seniors. Taking place March 6-9, The Armory Show 2014 will coincide with the opening of the Whitney Biennial, further establishing March in New York as a key moment on the international art world calendar.
About Our Man In Havana
Our Man In Havana is a New York–based agency specializing in advertising, design and strategic services for clients including USA Today, Gannett Inc., The Bronx Zoo and New York Aquarium, Lindblad Expeditions-National Geographic, Mount Gay Rum, Rémy Cointreau and The Armory Show.  Named a 2013 Advertising Age Small Agency of the Year Northeast Region, the company's success is built on its ability to help brands define and tell their story, build meaningful relationships with consumers, and succeed in their marketplaces.  Visit Our Man In Havana online at www.omihnyc.com
The Armory Show
March 6-9, 2014
Wednesday, March 5th – VIP Preview
Thursday, March 6 – Sunday, March 9, 12-7pm
www.thearmoryshow.com
TICKETS
Advance tickets are available now. Admission tickets will available at the Box Office during show hours. Please visit www.thearmoryshow.com for more information.
LOCATION
Piers 92 & 94
Twelfth Avenue at 55th Street
New York City
The Armory Show is located on Piers 92 and 94 on the Hudson River, Twelfth Avenue at West 55th Street in the Passenger Ship Terminal complex, conveniently located 20 blocks north of the Chelsea Gallery district and just west of Columbus Circle.
PRESS CONTACTS
For general inquiries and to register in advance for press accreditation
Allison Rodman, The Armory Show +1.646.616.7433/+1.914.715.9794
a.rodman@thearmoryshow.com
For international inquiries
Damian Chandler, Brunswick Arts +44.20.7936.1290/Julia Niebuhr +33.1.53.96.83.83
thearmoryshow@brunswickgroup.com
SPAZIO
SPAZIO